News & Insights
Work begins on Castle Park Energy Centre
A new energy centre in the middle of Bristol will house England's largest water source heat pump – one of the lowest-carbon solutions around.
The Energy Centre, part of the Bristol Heat Network, will be delivered by Bristol City Council and Goram Homes in partnership with Vital Energi. Once the Energy Centre is complete, a mixed-use development will be built over it with construction due to begin later this year.
On Friday 18th June 20202, Cllr. Nicola Beech, Cabinet Member for Climate, Ecology, Waste and Energy, Goram Homes board member Cllr. Don Alexander, and Stephen Baker, Managing Director, Goram Homes, visited the site to mark the start of the work. Cllr. Beech said:
 "The Bristol Heat Network is an integral part of our strategy for decarbonising the city and ensuring that Bristol continues to play its part in addressing the climate crisis. The council has invested over £60m in low-carbon and renewable infrastructure in recent years and we're delighted to be working in partnership with Goram Homes on this innovative project.

"It's exciting to be replacing old technology with greener solutions and great to be supporting businesses and public sector partners with their own efforts to decarbonise. Developing the heat networks has so many benefits for the city including the reduction in fuel poverty, cutting carbon emissions and creating thousands of jobs to support the local economy.
The 3MW water source heat pump will take water from the nearby floating harbour and use it to generate heat and hot water for local businesses and residents. Bristol's heat network currently supplies over 1000 properties with low-carbon heat from a variety of sources across the city and continues to expand to new areas. Vital Energi's Managing Director (North & Scotland) Mike Cooke explains:
"One of the truly exciting things about heat networks is that they last in excess of 50 years and can be constantly upgraded as new low-carbon and zero carbon technologies become available."

"Goram Homes are making a sizeable investment to incorporate heat pumps which are one of the lowest-carbon solutions around and will see them take a large step on their decarbonisation journey."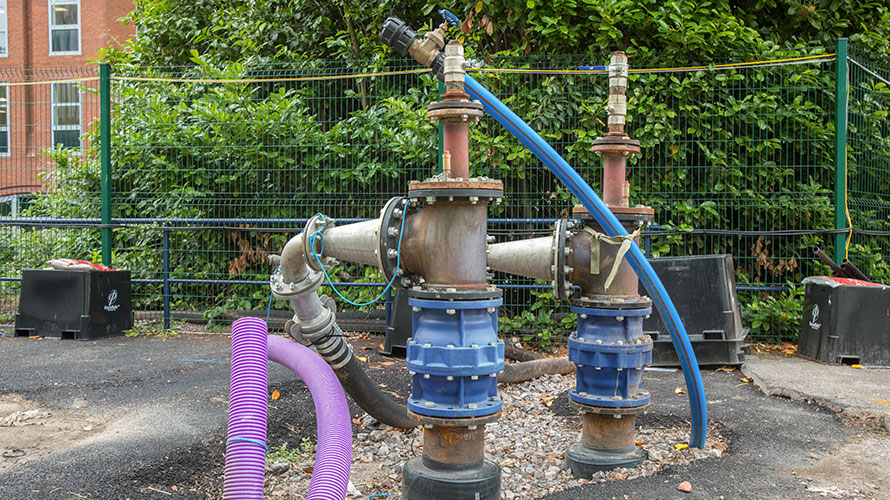 In 2018 Bristol City Council declared a climate emergency and pledged to make Bristol carbon neutral by 2030. Heating and hot water accounts for 40% of energy-related carbon dioxide emissions worldwide, and 19% of the UK's greenhouse gas emissions come from heating our homes and workspaces. Water source heat pumps are estimated to reduce the amount of energy needed to heat a building by 80%, and the Castle Park Energy Centre will provide affordable heating with a low carbon footprint for a greener, cleaner Bristol. Cllr. Don Alexander said:
 'It's great to see that work is now underway and to be able to talk about the project with people face to face. The Energy Centre at Castle Park, which will provide low-carbon heat and hot water for local businesses and residents, shows Goram Homes' ability to deliver the kind of bold solutions that Bristol now needs."
Goram Homes and Cllr. Don Alexander will soon be launching a series of face-to-face events to give local residents and communities a chance to find out more about our pipeline of developments. You can read a Q&A with Don here where he discusses his excitement about being able to get back out into the community.